Roll over image to zoom in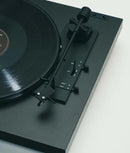 AUTOMAT LINE
The A1 introduces our completely new Automat Line. We have always had one purpose since our establishment in 1991: bring HiFi Stereo music enjoyment to as many people as possible. We are very happy to expand our product catalog with a fully automatic entry-level turntable and create new opportunities for future vinyl beginners and enthusiasts. The A1 is handmade in Germany by a traditional manufacture with a wealth of experience in making automatic turntables. Even the individual components are 98% made and produced in Germany. Paired with Pro-Ject technology and ideas, we set new standards in automatic turntable design. Our new A1 is your best companion to comfortably enjoy your favorite vinyl's.
The A1 has a fully automatic start/stop with the automatics being completely disengaged and decoupled during the entire runtime of the record. The fully mechanical automatics are engaged when you press start and the tonearm is automatically moved to the lead in groove of the record. Once playing, the automatics are completely taken out of the equation and do not affect the playback quality.
ULM Aluminum Tonearm
The A1 features an 8.3" ultra-light-mass aluminum tonearm. Together with the Ortofon OM10, which fits this design principle perfectly, we get extraordinary fast response and detail in terms of transients and microdynamics. Tracking force and anti-skating are factory pre-adjusted which make the A1 plug & play ready within a few seconds. This makes it perfect for vinyl beginners and experienced listeners alike as the sound quality is carried by all the audiophile features the A1 has on offer.
Audiophile Features
Ortofon OM10
Detailed Response & Microdynamics
A little-known fact is that the OM series of cartridges have their developmental roots and legacy in ultra-light-mass tonearm designs. Pre-fitted and adjusted in our factory, it is the perfect partner for your A1.
New Headshell
Carbon Fibre Reinforced
The headshell is made of carbon fibre reinforced polymer which is super stable and rigid, while keeping the weight super low. The composite material results in excellent internal damping of resonances.
Wood Chassis
Heavy and Avoids Hollow Spaces
The chassis avoids hollow spaces wherever possible, with just enough space to precision fit all the inner workings of the A1. As a result, the chassis' heavy mass reduces unwanted resonances to a minimum.
Damped Platter
Precision Balanced Aluminum
The damping ring on the inside adds weight and reduces resonances. In the last step the platter is turned and precision balanced to receive its fine edges and lowest wow and flutter deviations.
Connect it E
Semi-balanced RCA Cable
To guarantee a perfect connection to your amp we use a high-quality phono RCA cable. Our Connect it E is a semi-balanced, low-capacitance cable, with superior shielding.
Phono Preamp
Built-in Switchable Preamp
If you don't have a phono preamplifier in your current HiFi setup you will benefit of the A1s built-in one. If you want to use another phono preamp, you can easliy switch it off.
33/45 RPM
Ready for Singles & LPs
No need to change the belt position. Easily change speed with the push of only a single button & listen to your favourite LPs aswell as singles.
Automat Line
Handmade in Germany
The A1 is fully handmade in Germany and looks back on decades of experience. Paired with Pro-Ject technology, it sets new standards in automatic turntable design.
Payment & Security
Your payment information is processed securely. We do not store credit card details nor have access to your credit card information.