Roll over image to zoom in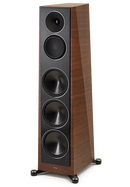 Founder Series 120H
Despite the high efficiency of the 120H, when we say hybrid, we don't mean it gets great gas mileage. No, we mean it has an amplified bass section that does the "heavy lifting" for you. Since our engineers designed the 120H from the ground up with its own amplification for the bass, we could perfectly tune the output as a system, giving a higher performance in a smaller package than would typically be possible. The 120H also takes advantage of the incredible ARC Genesis room correction system that takes real-world measurements in your room to tune the bass response for your specific situation. This is indeed next-level bass performance that allows your amplifier to concentrate its energy on the critical midrange and high frequencies. The 120H offers truly uncompromised performance in a very reasonably sized package. 
Precision. Control. Dynamics.
These are the pillars the Founder Series was built on.
Every once in a while, something special comes along and changes the rules. The perfect blend of technology, design, and performance. At the start of Founder's development, we knew one thing, when Art Embraces Science, anything is possible, and we exceeded our wildest expectations.
Founder is no ordinary loudspeaker. Every component, large and small, was scrutinized down to the tiniest detail. Every component has been thoroughly researched, designed, and engineered, exclusively for Founder's. New patented technologies were developed for the acoustic platform. The new cabinet platform is not just a stunning design, its unique shape and integrated structural bracing delivers acoustic performance that cannot be matched by traditional square boxes. By leaving no element unaddressed, Founder's is so much more than the sum of its parts.
During our exhaustive research, design, and engineering process, we looked closely and carefully at how speakers interact with their environment. The contemporary home interior presents design challenges that have become even more prominent over the last decade. Stone, glass, and wood have become the materials of choice and open concepts dominate. Founder's design has evolved with this trend and is perfectly suited to deliver its maximum performance in rooms that would challenge traditionally designed speakers. Whether you enjoy movies and music in a more traditional listening space, or your home is from the pages of Architectural Digest, you can be sure Founder will sound as good as they look.
Precision
When we say "precision" we mean the nuance, detail, and realism that is achieved when a speaker "gets it right." Founder series includes many new advances in design, materials, and engineering to provide class defining levels of performance.
Control
Packing incredible technology into a speaker means nothing if the benefits don't reach your ears. By addressing every component, our engineers made sure that you could hear the results of their hard work in any environment. 
Dynamics
Detail, clarity, accuracy, fidelity – these are words often thrown around to indicate the quality of sound, but what of the quantity? Recreating a live performance takes dynamics, or the ability to recreate quiet sounds, loud sounds, and everything in between. Let's look at how the Founder Series recreates the broadest and most powerful dynamics.
AL-MAC™ High-Frequency Driver
The Founder's tweeter is a 1" (25mm) Aluminum Magnesium Ceramic (AL-MAC™) dome with a proprietary Oblate Spherical Waveguide (OSW™) and a Perforated Phase-Aligning (PPA™) Lens.
AL-MAG™ Midrange Driver
The Founder's midrange is a 6" (152mm) Aluminum Magnesium (AL-MAG™) cone with Perforated Phase-Aligning (PPA™) Lens, Advanced SHOCK-MOUNT™ Isolation Mounting System, and a 2" high-temp multi-layered voice coil with ventilated Apical™ former.
Ultra-High-Excursion AL-MAG™ Bass Midrange Driver ONLY on Founder Series 40B & 80F
The Founder's mid/bass driver (40B and 80F only) is a 6"(152mm) Ultra-High-Excursion Aluminum Magnesium (AL-MAG™) cone with Perforated Phase-Aligning (PPA™) Lens, Gen3 Active Ridge Technology (ART™) Surround with Vertical Mounting System, Advanced SHOCK-MOUNT™ Isolation, and a 1.5" high-temp multi-layered voice coil with ventilated Apical™ former.
Ultra-High-Excursion CARBON-X Unibody Bass Driver
The Founder's Bass driver is a 6" (152mm), 7" (177mm) or 8" (215mm) Ultra-High-Excursion Unibody CARBON-X™ Cone, over-molded Gen3 Active Ridge Technology (ART™) Surround with Vertical Mounting System, Advanced SHOCK-MOUNT™ Isolation and a 1.5" high-temp multi-layered voice coil with ventilated Apical™ former.
Beautiful Premium-Grade Finishes
Founder Series cabinets are offered in a variety of beautiful premium-grade finishes: Walnut and Black Walnut have a smooth satin finish with distinctive wood figuring. Our exclusive Midnight Cherry and Piano Black feature a luxurious hand-rubbed, high-gloss finish.
ADVANCED Shock-Mount™ Feet
Founder Floorstanding Speakers include Advanced Shock-Mount™ Feet which decouple the cabinet from the floor, not just once, but twice, for extremely effective vibration decoupling. Interchangeable hardware is included for both carpet and hard surfaces. The feet can be adjusted from above to level the cabinet with ease.
ADVANCED Shock-Mount™ System
The Founder Series midrange and bass drivers are mechanically decoupled from the front baffle by our Advanced SHOCK-MOUNT™ Isolation Mounting System. This special mounting hardware uses an elastomer suspension to prevent any transfer of vibration from the driver to the cabinet, and from the cabinet to the driver. By eliminating resonance, the driver is free to render sound purely and efficiently with no audible distortion and maximum clarity.
Dual-Sync™ Continuous Flux Motor

The Founder's new coaxial midrange driver found on the center channel models, employs OSW™'s oblate spheroid shape with a coaxially mounted tweeter. It maintains detail and sonic focus within the broad and deep sound stage by acting as the waveguide for the tweeter, making its dispersion characteristics ideal for any listening space. Our patented Dual-Sync™ Continuous Flux Motor has taken away the limitations of combined magnet structures as well as having a full-sized, low-distortion and higher output midrange tweeter combination while maintaining a relatively low height for the center channel cabinet, allowing for greater placement flexibility.
Cascade-Fusion Bracing
Cascade-Fusion Bracing inside Founder Series' faceted cabinets increase rigidity and break up standing low-frequency waves. This delivers much tighter bass with greater clarity and accuracy. All bracing is extensively reinforced, making the cabinet into a monolith stronger than the sum of its parts. The inherent strength of the geometric cabinet profile distributes the load points across a larger cabinet area providing greater support and rigidity than can be achieved with traditional square cabinet geometry.
Payment & Security
Your payment information is processed securely. We do not store credit card details nor have access to your credit card information.